OCTOBER 2016
 If you want day to day updates of my newest work please follow me on INSTAGRAM = @oldschoolhelmets 
I am currently 4-5 weeks out on my turnaround time so if you need something painted over the winter months please email me! oldschoolhelmets@hotmail.com
THANKS for your support!!!
SUMMER 2015!
I hope you are all enjoying the summer with your knees in the breeze and bugs in your teeth! Below is a pic of my little dude Ike (short for Isaac). He is 5 and getting some of that air!
Below that is a pic of a helmet I just finished painting. It is heading out west to the boys at Biltwell and they will be displaying it at Sturgis at the #gringogarage at Sturgis City Park.  If you are heading to Sturgis this year check it out!!
Keep the orders coming and keep the rubber side down!
SPRING IS HERE!
Thanks for all the orders lately folks! Some very cool helmets and a couple of tin sets on the horizon. Because of all this love, my turnaround time kinda sucks right now. About 8 weeks. I am a one man show and work as fast as possible but I will not sacrifice the quality of my work. I promise it will be worth the wait. Thanks for your patience! - Josh
OSH X DCC = KILLER LIDS! 
 I painted up 20 helmets for Dime City Cycles in Largo, FL. They will be selling them at shows in the coming weeks. Here is a sampling of them.
I will also be doing some exclusive designs for them very soon. Keep your eyes peeled! Thanks for the support DCC!
O.S.H X THREEPENCE = KILLER RACKS!
I recently teamed up with Wes Case of Threepence out in Denver CO in order to offer YOU a unique way to display your custom painted helmets!
Wes makes each rack one at a time by hand. They are made of repurposed 530 motorcycle chain and oak.
The price for the single stack rack (pictured) is $125 + shipping. I can also pinstripe or personalize your rack for a little more cash;)
ORDER ONE NOW IN THE WEBSTORE!
WEB STORE IS OPEN!
It is now easier than ever to order one of our most popular designs! Simply click on the web store link above and order your favorite helmet!
There is still a turnaround time but this eliminates back and forth emails!
Please remember I am a one man show and the helmets are painted one at a time. 
FOR SALE:
I rarely get to paint a helmet to sell so here is your chance to grab one now!
NEW! size L Biltwell Gringo DOT helmet with distressed white crab claw flames outlined in a clean metallic gold pinstripe. STAY CLASSY!
$299 shipped in the states. $325 worldwide.
HAPPY NEW YEAR!
 I just wanted to say THANK YOU to the 87 people who ordered helmets from me in 2014. And to those of you who supported me in other ways.
I slowed down a bit this past year on purpose. I needed to recharge a bit and have enjoyed painting more and more because of it. I also got to spend more time with my family!
I want to do a few things this coming year. I want to push myself a little harder, develop my skills and get out of my comfort zone. I also want to paint one helmet each month that is an original design and sell it. Up until now each helmet I painted was for a customer. So, keep checking back and grab an OSH original!
Here's to 2015!
(Aug. 2014)
CAN I GET A WITNESS?!
I recently did a trade with a very cool cat named William from Witness Company USA. He makes killer rings (and other jewelry) in the tradition of Mexican biker rings. Big ass solid brass and silver rings made by hand in Brooklyn, NY.
WITCO offers a variety of designs and sizes to choose from. Just like our helmets, these are made by hand, one at a time so there is a wait time. And believe me, it's worth the wait. Can I get a witness!
SUPPORT AMERICAN MADE!
MILESTONE! June 2014
OSH has hit the 5 YEAR MARK! We would like to thank all 1,190 customers for buying our custom painted helmets.
20 helmets per month for 5 years straight is amazing! That's a hell of a lot of painting!
We would not be here without you. We started out small, with the idea that each and every helmet was going to someone who would truly appreciate the hand painted quality that OSH is known for worldwide. We still hold that same belief 5 years later.
THANK YOU!!!!
THANKS FOR STOPPING BY!
Well, the weather is looking better and better in the parts of the country that suck during the winter months! Dust off those bikes and ride safe!
PAINT CONTEST! 
I have been chosen in the top 5 out of 35 painters to take the final spot in the Art & Fuel Paint Exhibit which will be held at Born Free 6. If you would like to vote for me click here: www.tinyurl.com/chopcult5
I would greatly appreciate your support!
Voting ends TODAY! 3/28!
**UPDATE: I did not win:(
- Josh
HAPPY NEW YEAR!
2013 was another great year for OSH! I want to thank everyone who bought lids or had their tins painted. YOU make all of this possible. Have a safe and happy new year!
BILTWELL GRINGO is here!
Retro inspired design with modern quality! Biltwell inc has done it again! This killer helmet is DOT APPROVED and available in 5 COLORS and in sizes L, XL, XXL as of right now.
only $149.95!
Sizes XS, S, M in about a month.
You can buy it in the webstore right now!!!!
HAPPY CUSTOMER
Marcus from Germany enjoying his freshly painted and reupholstered vintage Bell Moto 3 from Old School Helmets and Hell Mutts (custom interior)
BONANZA!
Introducing Biltwell's NEW 3/4 open face DOT helmet . . . The Bonanza!
In my opinion, this is the best looking/fitting DOT helmet on the market. Get one today!!!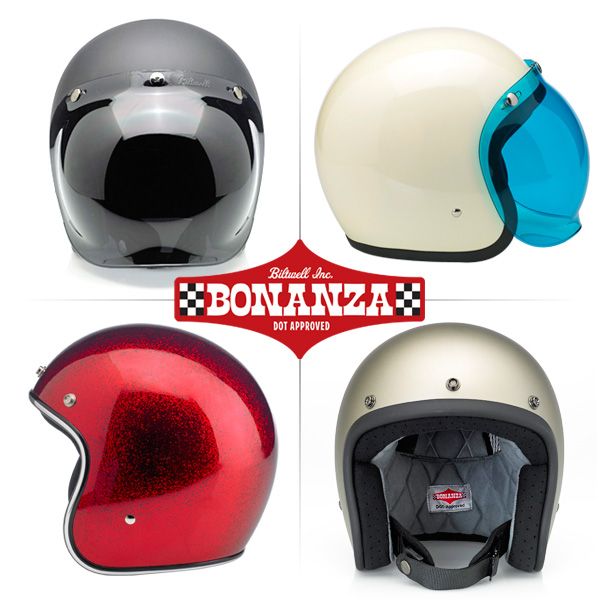 ART SHOWS!
Couple of very cool ART SHOWS I will have pieces in!
"Against The Grain 2" is an all skate deck art show in Venice, CA - 3/2
"Oil and Water" is a celebration of surf, chopper, rat rod and skate culture through art! Put on by Us Versus Them. San Diego, CA - 3/9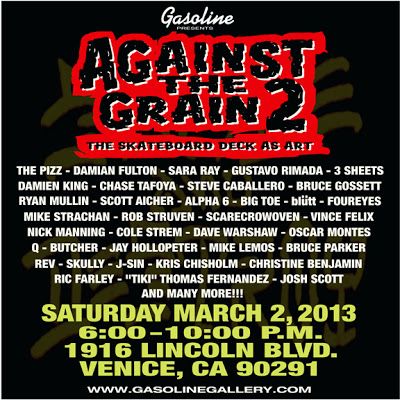 6 / 7 Pack
Just finished this 6 pack for Feenhead in Canada and a 7 pack for Tarek in Dubai UAE! Sell em out fellas!!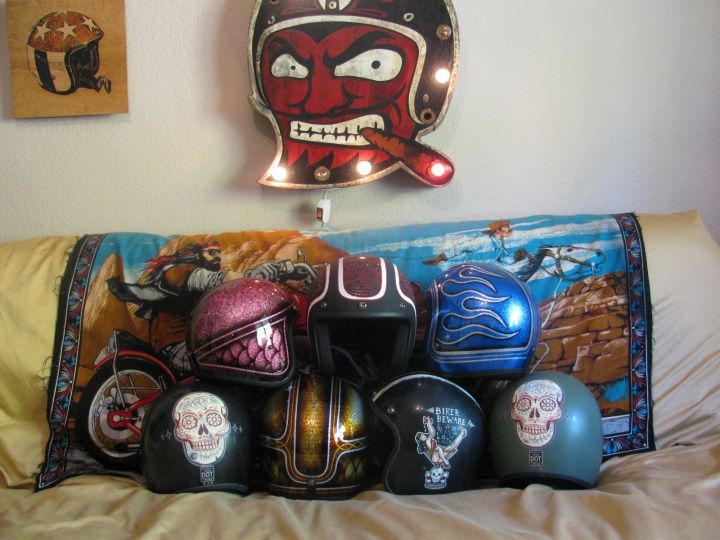 OSH4LIFE!
Bike is running well, business is booming and although I don't have much free time, I get to do what I love for a living! Life doesn't get much better!
THANKS to all of you for the continued support!!!
STREET CHOPPER!
I finally finished up this project for Street Chopper Magazine's John Zamora. He is rehabbing a vintage Honda CB750 chopper and documenting it in the magazine! I am stoked to have been a part of this project. Thanks man!!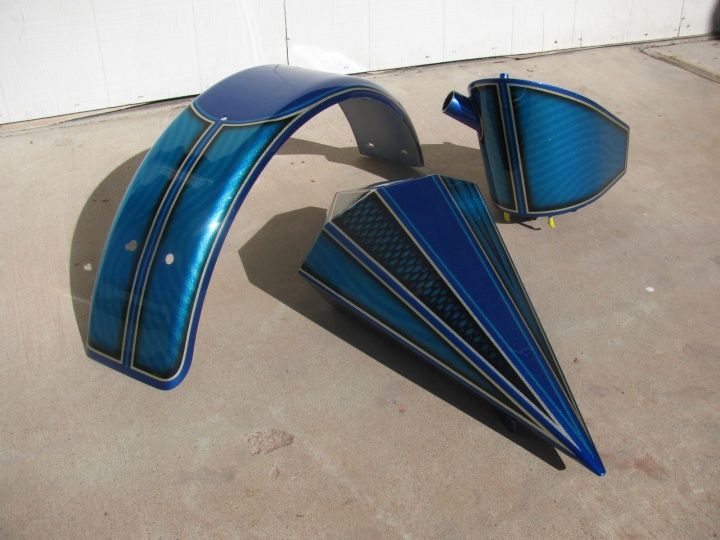 FULL FACE FEVER
We have been rehabbing a few vintage full face helmets lately! The Bell Moto 3, Moto 4, Simpson Moto, Bell Star, etc are getting VERY popular among the chopper freaks out there (myself included) and with popularity comes a price. Beat up originals go for $150-250 on ebay and other sites.
The good news is that we tear them down to the bare shell, removing all snaps, straps, etc. After bodywork and paint, I send them off to HELLMUTTS in the state of Washington for a custom interior, snaps, straps, etc.
The end product is a complete custom vintage full face helmet that oozes with style! Bitchin!
Check out our new "VINTAGE FULL FACE LIDS" page!
Its that time of year!
Freezing cold hands, runny noses, coughs & sniffles. Well, WE GOT YA COVERED! Or at least your head!
 FREE Lowbrow Customs beanie with the purchase of a custom painted helmet! OFFER GOOD 1/7/13 - 2/7/13
It's the least we could do;)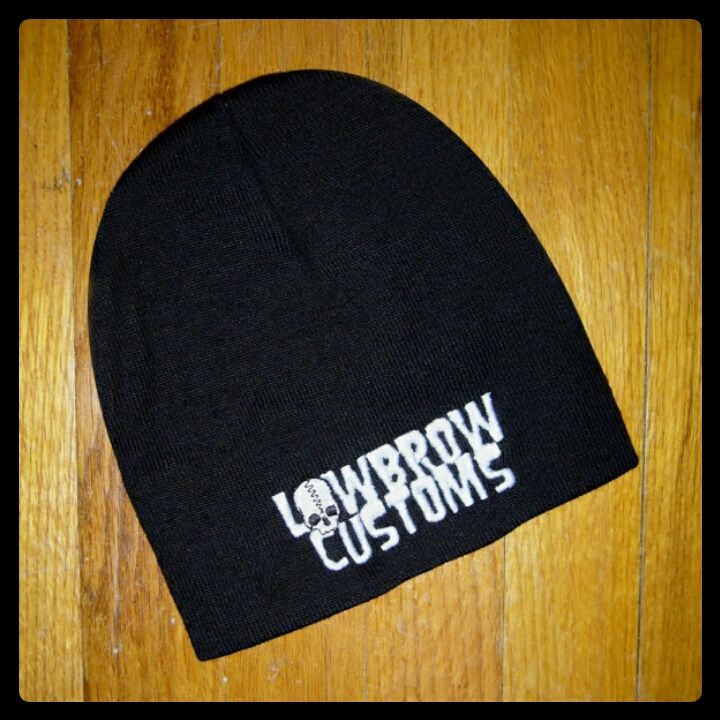 TANGERINE!
Just finished up this set of tins for Brandon! Heavy silver flake base with gloss black and tangerine candy!
CHOPPER FEST!
If you have nothing better to do on sunday, Dec. 9th you should come check out the David Mann Chopperfest in Ventura, Calif.
I will have a table set up in the Lowbrow Customs booth. Stop by and check out some of my work in person. I will have lids, tins, decks & t shirts!
Bring lots of cash (slowly rubbing hands together) lmao!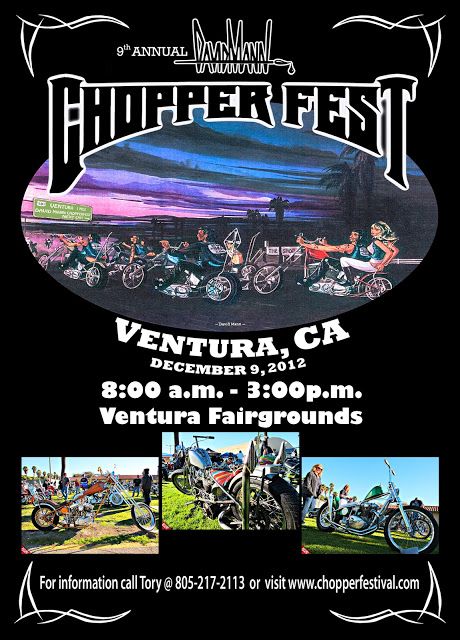 Dubai in the house!
 I painted these tins for Nikhil in Dubai, UAE about a month ago. He finally received them and threw them on his Zero Engineering bike. Fantastic!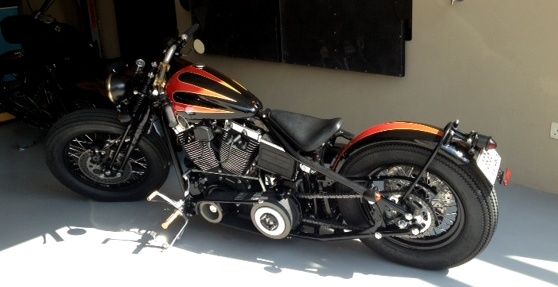 TINS!
Knocked out 2 classy paint jobs over the past couple of weeks. Check out the "custom painted tins" page for a closer look.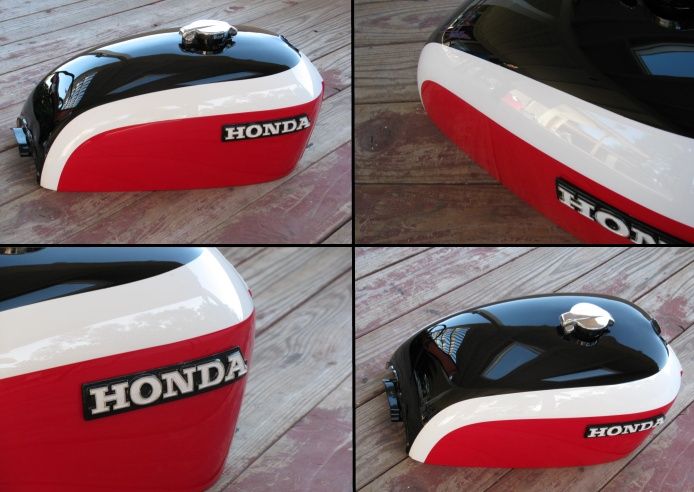 CHOP CULT!
The bike I just finished building/painting is featured on Chop Cult! Check it but don't wreck it!
NEW NOV COLORS!
 The dudes over at Biltwell Inc. recently released another set of killer colors for their world famous Novelty lids!
Flat Black Out! Gloss Hazard Orange! Flat Olive Green! Gloss Vintage White! Flat Chocolate Brown!
Hip Hip ...... Hooray!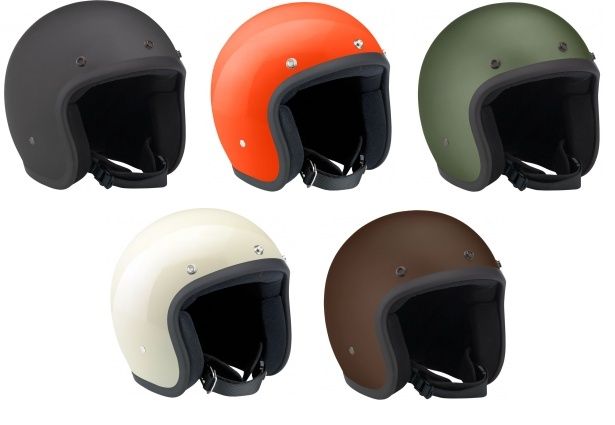 BIKES! 
Check out the new BIKES page above for a look at some killer scoots I have had the opportunity to paint!
HAPPINESS is a warm gun!
A warm paint gun, that is! Been super busy lately and I appreciate everyone's patience! Here are a few jobs fresh off the gun. Check out the custom painted tins page for a closer look.
Black/red tins are headed to Nikhil in Dubai, cream and brandywine cafe set are going to Jeff here in the states and solid brandywine tank is staying right here with me to finish off a bike I have been building for way too long!
3 Banger
I painted this bike, built by Brian Triglia, a few months back. He built it for the Horse (magazine) Smokeout Amatuer Chopoff and although it didn't win, it got plenty of looks! KILLER SCOOT! 
Norwegian Wood! 
 These tins and helmet are heading to Marius in Norway. The helmet is a vintage Bell Moto 3 full face circa 1979 and it will make a pit stop in Washington (state) at Hellmutts for some new hardware and a custom liner.
Tank, seat and cowl were handmade by Rene at Mercury Moto. This dude has some insane fabrication skills! Holla!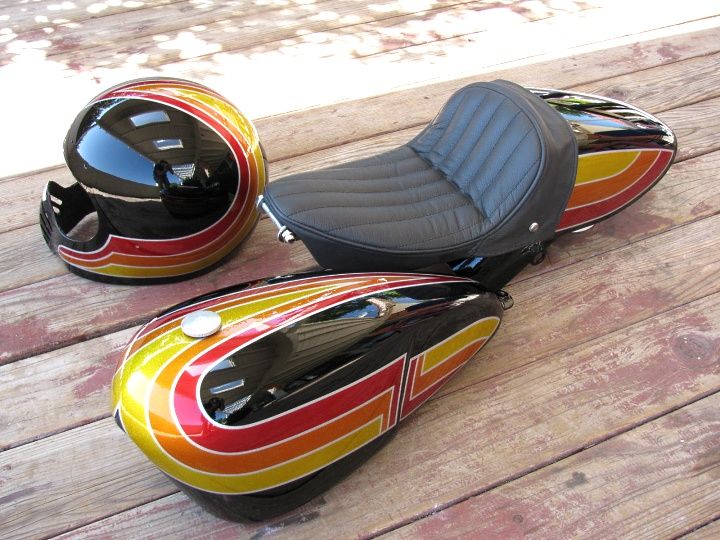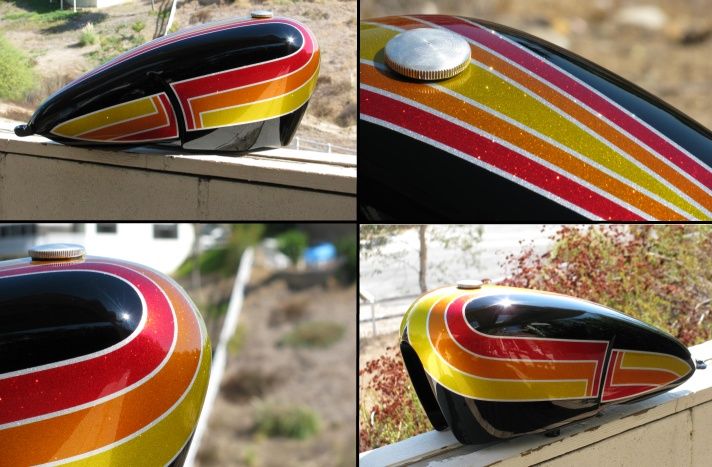 "El Fuerte" is here!
NEW from BILTWELL INC. "El Fuerte" is replacing "the Hustler" as Biltwell's new DOT approved open face helmet! Smaller overall shell and the same great quality.
Available in 8 colors from size XS to XXL. You can purchase plain (no artwork) helmets directly from our webstore.
For more pics/info, check out our "D.O.T. Info" page.
If you want some custom paint on yours, please contact us directly!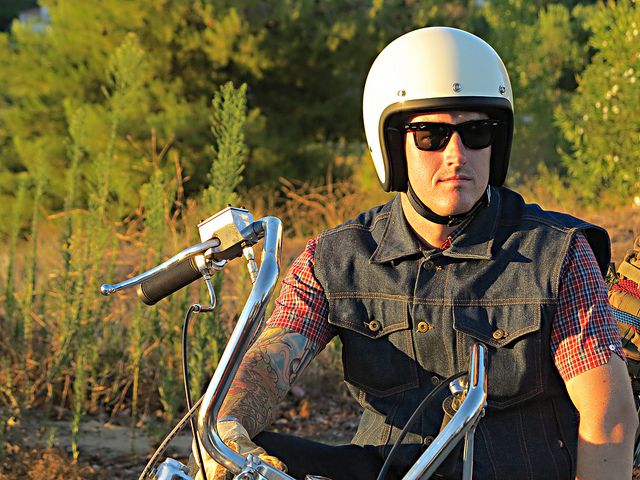 #1000
We have been in this little game, the custom helmet game, for a little over 3 years now. We just sold our #1000th helmet!!!!!!!!!
I really can't believe it and could not have done it without YOU, our customers. Whether you bought 1 helmet or 20 helmets, I appreciate you more than you know!
I could not have done this without the help of my friend Steve Havens. He has been helping since the beginning and has watched this whole mess grow into what it is today. Thanks Steve!
I also want to thank my wife Sarah and our kids Zoe (5) and Isaac (2) who are always supportive. The BILTWELL crew for putting out killer helmets (among other things) and LOWBROW CUSTOMS for the great customer service over the past few years.
Below is the helmet that started it all ... the first helmet I ever leafed! I saw an article in Street Chopper Magazine and figured if they could do it, I could do it! I am glad I came across that article;)
Here's to another 1000!
- Josh
Long Beach Swap Meet
Went to the LB swap at the end of August and got to meet a customer in person which is a rare occurrence. Enjoy your new lid Bea!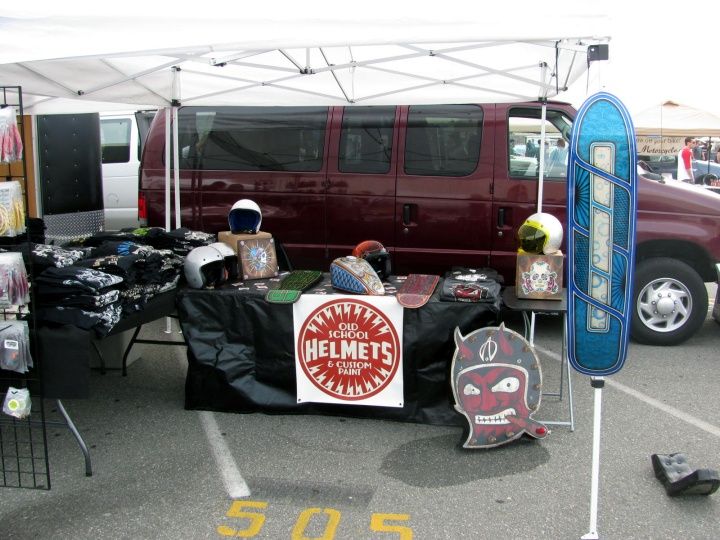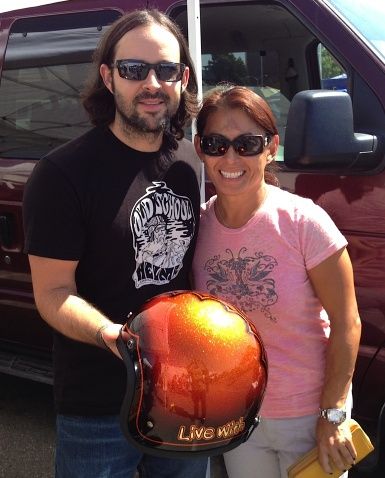 EYE KANDY
Photo courtesy of Street Chopper Magazine! Lid courtesy of O.S.H.
DEVIL T's are BACK!
Finally got more of these printed! All of you who have been waiting . . . snag em up!  
Printed on HIGH QUALITY vintage fit, extra soft heather gray T shirts. Printed in the USA!
Go to the WEBSTORE to buy one now! Thanks for your support!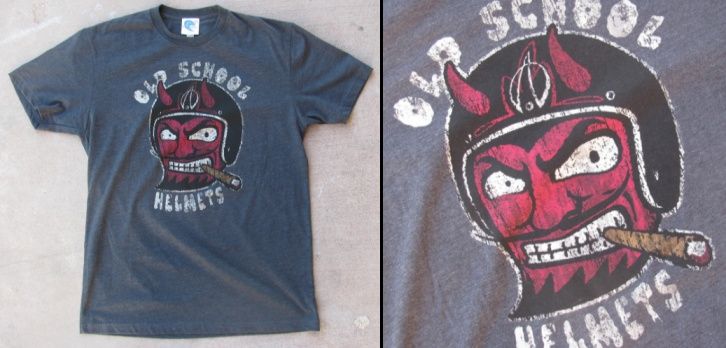 BACK AT IT!
Here is the first full paint job out of my new shop in Calif. This was done for Roger who is rebuilding an already killer scoot! I couldn't be happier with the way this one turned out!
This is about as hard as it gets in my little world . . . gloss black, heavy metal flake panels and hand pinstriping! It may look simple but if you've ever shot paint, you know what I'm talking about!! Enjoy Roger!
oh, and check out my new shop truck in the last pic! 1960 Ford F100 . . . hell yeah!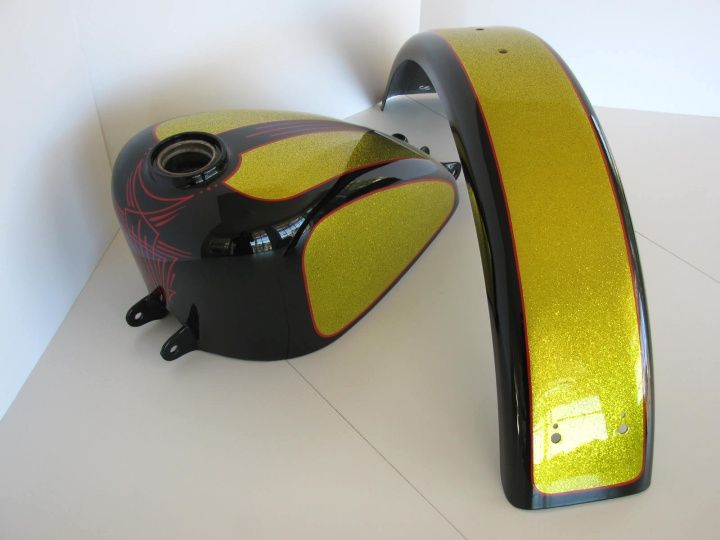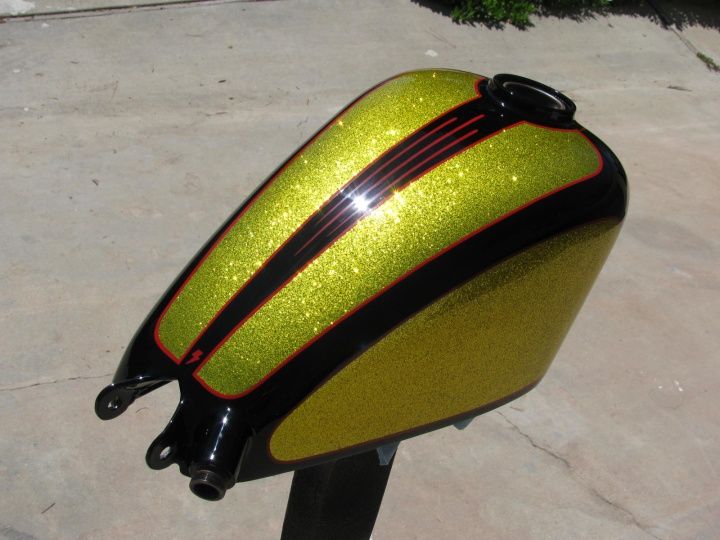 MADE IT!
We made it to California and are up and running again! I am stoked with my new shop space.
Old School Helmets is now located in Temecula, Calif. Stop by and say hi if you are in the area!
PURPLE NURPLE!
Heading to OH Canada tomorrow! Check out more pics on the "custom painted tins" page!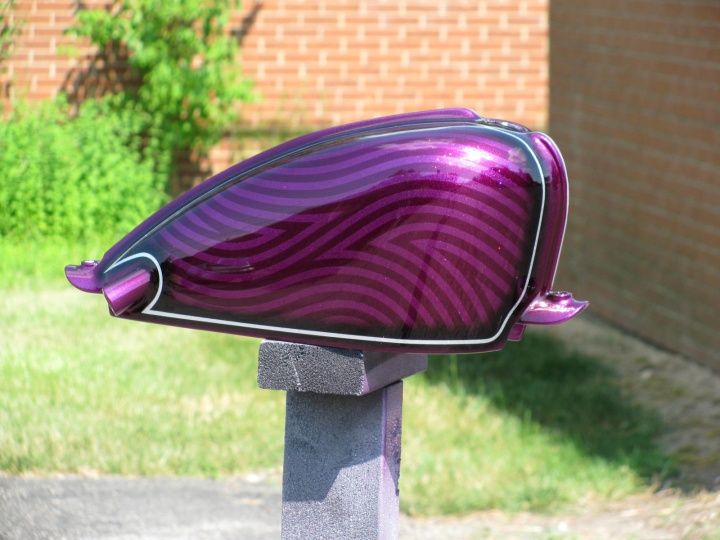 Super Cool!
I had the chance to paint this wicked cool one piece race body. Hand crafted by some old dude long ago. I painted this for a local guy named David.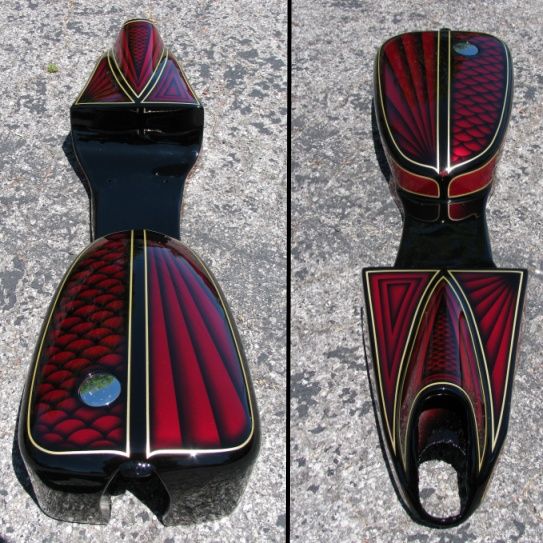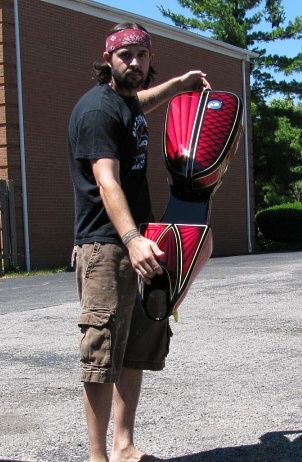 Tangerine Dream
I was stoked when Tim told me his ideas for paint on this tin set. Deep black fading into rootbeer fading into tangerine. Add a little gold leaf and VIOLA! Instant classic! Can't wait to see these on his XS650 chop!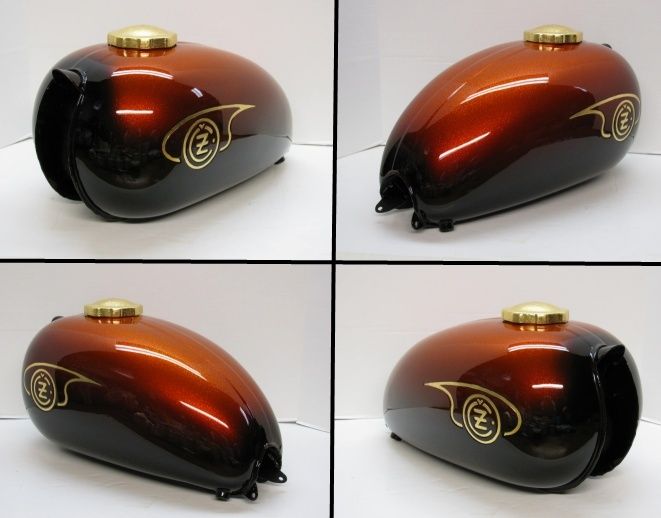 Greg's Tins
Painted these up for Greg out in Utah. These are going on a killer XS650 chop he built. I will post up some pics as soon as the bike is finished!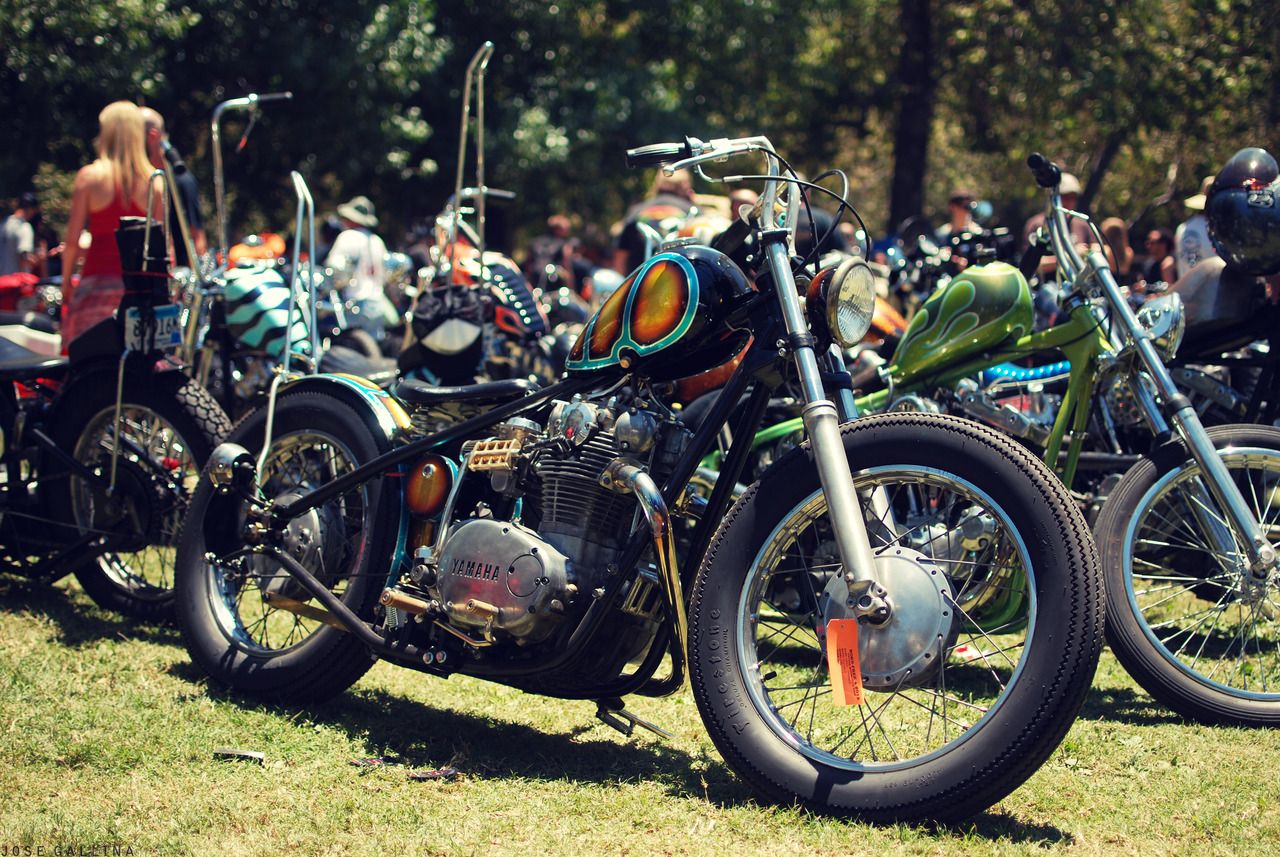 NEW T SHIRTS!
Available in the WEB STORE for $25 Grab one now! Limited Quantities!
"3 BANGER"
I painted this tank for Bryan who is a contestant in the 2012 Horse Smoke Out Amatuer Chop Off (ACO). Check out his bike in person June 22nd in Rockingham, NC. Thanks for letting me paint it man and GOOD LUCK!
Check out larger pics on the "Custom Painted Tins" page.
VIDEO: 
 http://www.youtube.com/watch?v=ajmwjpmJzoU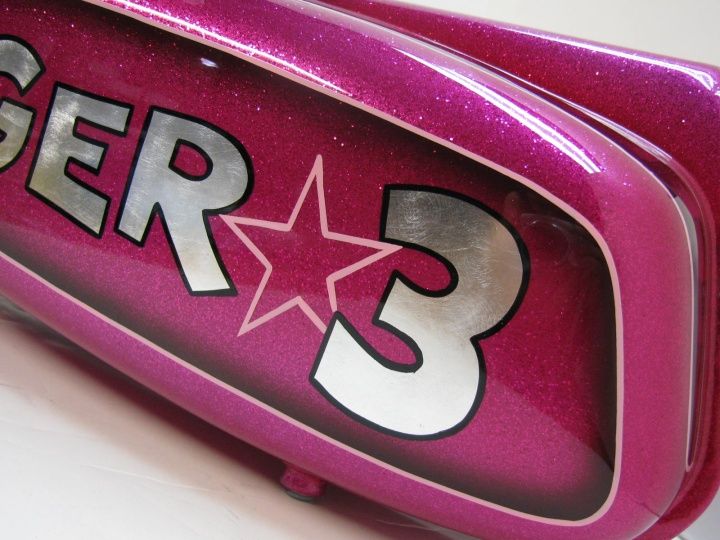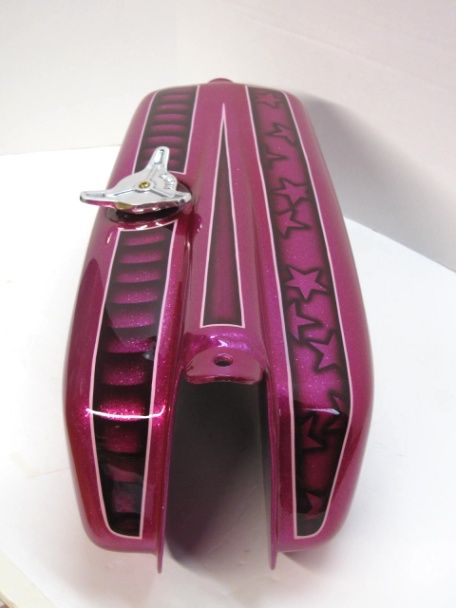 The Hermit Emerges!
A rare pic of me holding some of my work. Painted these tins for a local dude named Trenton. I will be posting better pics soon!
Brian's TANK!
I just finished this tank for Brian. Enjoy man!!!
__________________________
 We offer:
Pinstriping

Gold & Silver Leaf

Hand Lettering

Illustration / Graphics

Flake & Kandy Paint 

Distressed Paint

DOT & novelty helmets

T Shirts

___________________

BUBBLES are BACK!

Biltwell produces 8 cool colors to match any custom lid! You can purchase these directly from our webstore!